Safety focused mining equipment manufacturers.
Established in 2002, Hedweld USA Inc. offers innovative mining industry products, designed to improve safety and efficiency, across Central and North America.
Offering the Trilift® range of component handling equipment and the Safe-Away® range of access systems, Hedweld USA's aims are to minimize workplace injuries and increase maintenance productivity within the mining and earthmoving industries. This mining equipment manufacturer provides innovative products and services, parts and after sales support.
Our Business
Hedweld USA Inc. striving to be globally recognised as a leading mining equipment manufacturer of safer maintenance products.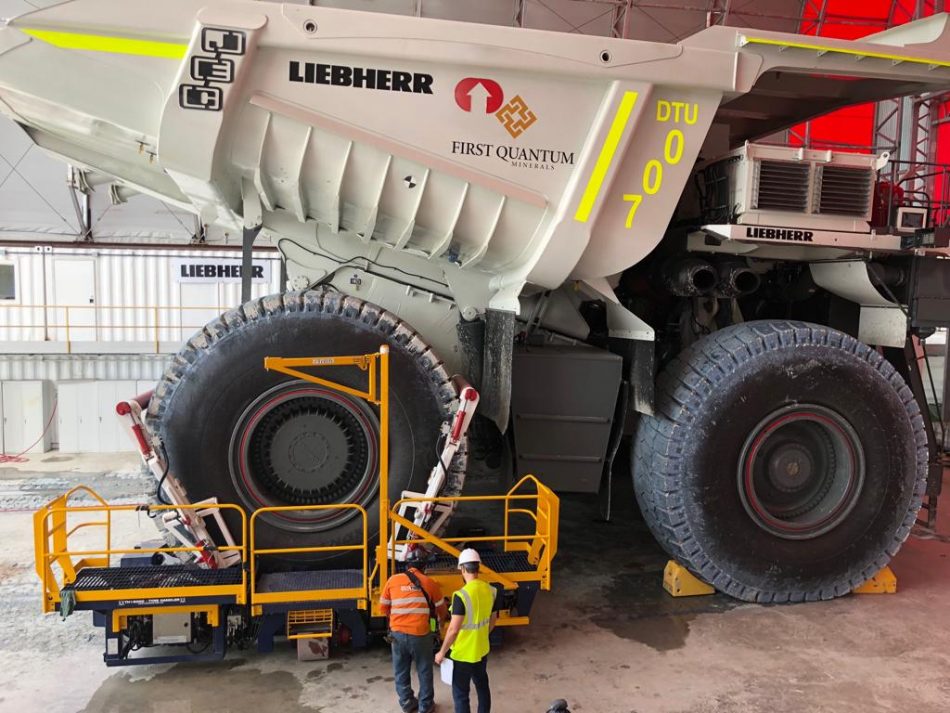 Trilift
®
TH15000 Workshop Tire Handler
The TH15000 is designed for the safe handling of tires from large mining and earthmoving equipment up to 15T. It's compact design minimizes impact on normal workshop operations.
Safe-Away® Swing Ladder for dozers
This electro-hydraulically controlled ladder provides safer access from dozers, shovels and excavators. It is raised, when the vehicle is in motion, to protect it from damage.
Our Brands
Unique solutions.
The Hedweld team actively collaborate with key stakeholders, encouraging innovative thinking to design, manufacture and provide unique solutions which solve customer problems, increasing workplace safety & efficiency while positively impacting the regions in which we work.
After sales support services for our mining equipment
Installation/commissioning & training
To ensure that your Hedweld products are utilized safely and to their full potential, installation, commissioning and training should be carried out by an authorized technician. Onsite or online training can be arranged for fitters, where Certificates of Competency are provided to participants upon successful completion.
Troubleshooting mining equipment
At Hedweld USA, we have designated Product Managers and Product Support Representatives to help you troubleshoot any issues with commissioning, training, installation or performance.
Onsite audit reports for mining equipment
If you are an existing Hedweld USA customer, we can provide comprehensive Onsite Audit Reports on your equipment. Whether these are Safe-Away® and/or Trilift® products, it is our aim to ensure your Hedweld USA equipment is in optimum working condition.
Onsite field servicing of mining equipment
At Hedweld USA, we want you to get the most out of your investment, so our Safe-Away® and Trilift® products are supplied with ongoing preventative maintenance schedules. These include daily, monthly, quarterly and annual checklists to make sure your equipment keeps running smoothly.
Hedweld USA have inducted Field Service Technicians with fully equipped vehicles who can provide;
preventative maintenance,
breakdown repairs, and
onsite installations
on all Safe-Away® ladder & stair access systems and all Trilift® component handling products.
Mining equipment spare parts & manuals
It is our commitment to customers that spares in stock will be dispatched the same or next day, on your transport.
If you require an electronic copy of an Operating Manual, these can be ordered through Spare Parts.
Safe-Away® service exchange
A Service Exchange Power Pack will allow you to keep your mobile fleet equipment operating and reduce downtime while our team does the testing, analysis, quote and repair work.
The benefits of Safe-Away Power Pack Service Exchange are:
quick turnaround times,
decreased machine downtime, and
lower maintenance costs.
The Service Exchange offers a like-for-like exchange. It is really that simple.
Offsite servicing & repairs of mining equipment
Please contact Hedweld USA Inc. Business Development Manager to book in your offsite repair work on 208-933-2114. Your Hedweld USA equipment can be serviced at our Idaho facility.
Mining equipment available for rent across America
Renting Trilift® products will:
Provide a safer working environment for all maintenance staff to assist mine maintenance workshops achieve zero harm.
Eliminate the need for dump body/tray removal.
Eliminate the need to work under suspended loads.
Allow all bays in the workshop to be utilized to maximize workshop efficiencies.
Reduce the number of personnel required to perform maintenance tasks freeing up labor for other duties.
Decrease the maintenance time for your equipment. This means that your equipment will be spending less time in the workshop and more time moving overburden and minerals.
A Hedweld USA Rental gives you the option of short (minimum one month) or long term contracts to:
try our products prior to purchasing and experience the productivity gains for yourself, or
have your existing Trilift® equipment factory reconditioned.
Hedweld Usa Inc. the industry's preferred mining equipment manufacturers, can be contacted via our contact form or call our office in Idaho on 208-933-2114.
Looking for maintenance tooling and access for your fleet?
Hedweld offers unique solutions
Want to join the Hedweld Team?
Join the Hedweld Team